Real-time visibility into the actual data collected on your website—for every user, every tag, every variable:
Don't rely on antiquated monitoring tools that can only scan for what you think users are up to.
Be the first to know when something goes awry.
See it for yourself – book a demo today.
Problem 1: Your Data Quality Stinks
Admit it: your digital data gets wonky from time to time.
Something changes, your reports are broken, and you're left to figure out the who, what, where, when, and why:
Who made the change?

What are the impacts?
Where is the problem?
When was the change made?
Why does this keep happening?
It's not just you.
We've seen it a million times.
The best MarTech teams in the world suffer from digital data quality entropy.
We used to suffer too. So we fixed the problem.
The Tool We Wished For
"Within two weeks of implementing the Sentinel tag on our websites, we'd found the answer to a problem with missing data that had been vexing our team for months. Sentinel Insights paid for itself almost instantly.

Digital Analytics Manager

Communications Technology
Problem 2: You Can't Afford Consent Gaps
7 out of 10 websites we review don't handle their users' consent properly.
Is your website in the 30%? Do you know for certain? 
Consent management isn't a "set it and forget it" thing.
Your users say they don't want to be tracked.
To honor this properly, you need constant vigilance.
But how can you keep an eye on every user and every consent setting?
When one user's consent preference is violated, it's a needle in a haystack of marketing tech web traffic.
So many users, pages, and vendors...is it even POSSIBLE to pinpoint missteps in your handling of user consent?
Yep. The solution is comprehensive compliance automation.
Automating Compliance
"Our website was tracking users who'd opted out of analytics tracking, and we had no idea. Sentinel Insights found the problem before a regulator could, saving us from potentially astronomical fines.

Data Privacy Manager

Pharmaceutical
Problem 3: Consultants are Expensive
Sentinel Insights isn't just here to point out changes and gaps in your MarTech stack, we're also here to give a friendly nudge when we see areas for improvement.
This virtual consultant never takes a break or goes on vacation.
Are you sure you're passing purchase- or product-level information correctly for every visitor? If not, you may be missing valuable data expected downstream. So you're leaving money on the table in your marketing campaigns and upsell efforts.
It's never been easier to find and fix these gaps in best practice than with your virtual consultant in the Sentinel Insights dashboard. 
"Sentinel Insights keeps an eye on our agencies who often deploy new campaigns. If they forget a campaign parameter or dynamic setting on one of our pages, we are alerted right away and the impact to our marketing campaign is negligible.

Digital Marketing Strategist

Fintech
You can trust your data with Sentinel Insights.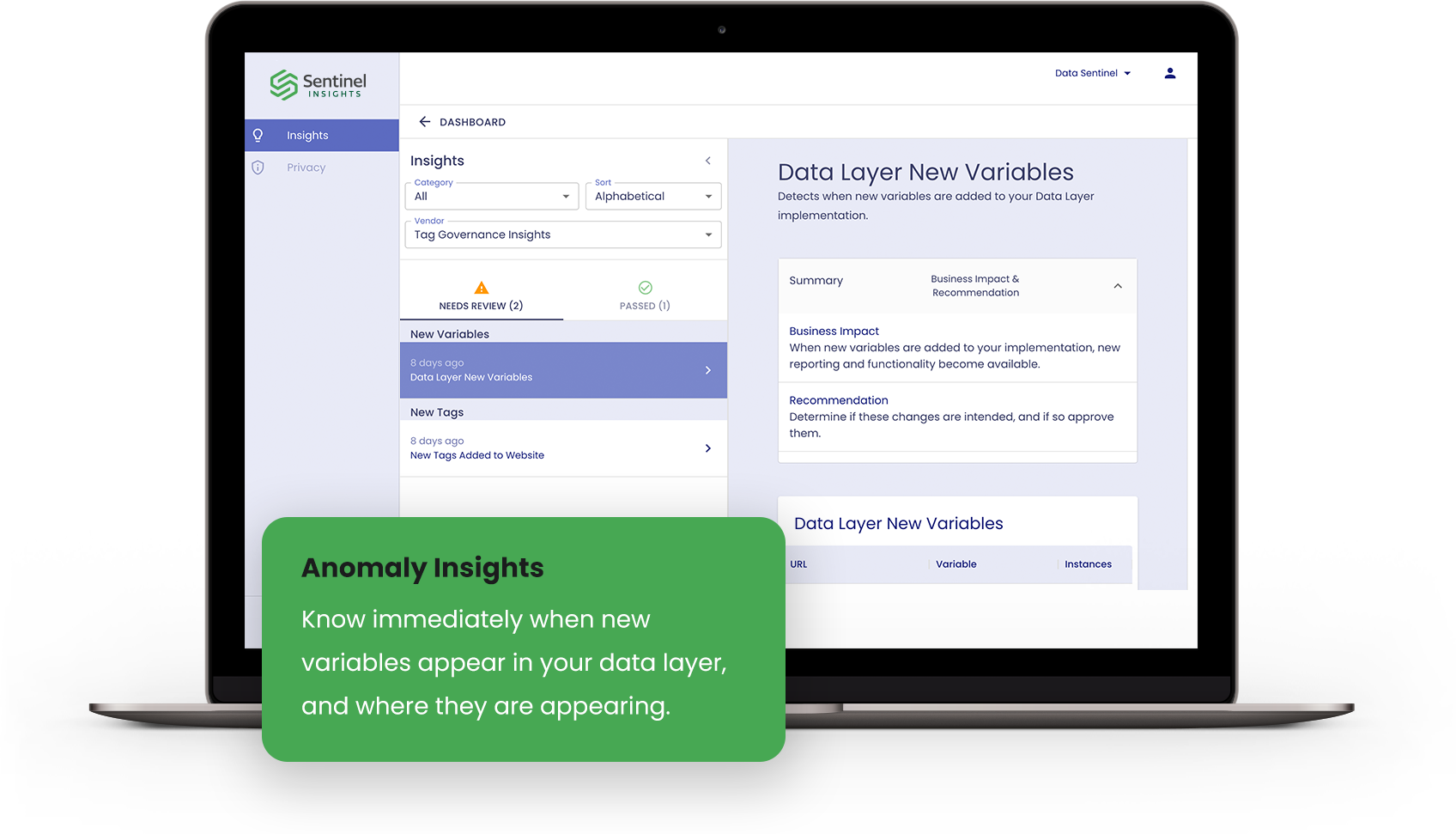 Take it from the experts... Sentinel Insights provides instant value.
We saved so much money by making the recommended improvements to our Adobe Analytics implementation that Sentinel Insights paid for itself within the first month.

Ecommerce

Digital Analytics Manager
Sentinel Insights let us know that we were not honoring our users' consent on portions of our website. We were at risk for regulatory fines and we had no idea.

Pharmaceutical

Data Privacy Product Owner
Our agencies often make changes to our website independently - Sentinel Insights gives us peace of mind that if something goes wrong and our digital marketing campaigns are impacted, we'll know immediately.

FinTech

Digital Analytics Manager